This week is Mental Health Awareness Week!

Last year the theme was on Body Image. This year the theme that the Mental Health Foundation has chosen is Kindness! This is something that we all take for granted usually; and more so now with all that's going on in the world, a little amount of kindness can go a long way!
---
– Download our Random Acts of Kindness Challenge Chart here! –
---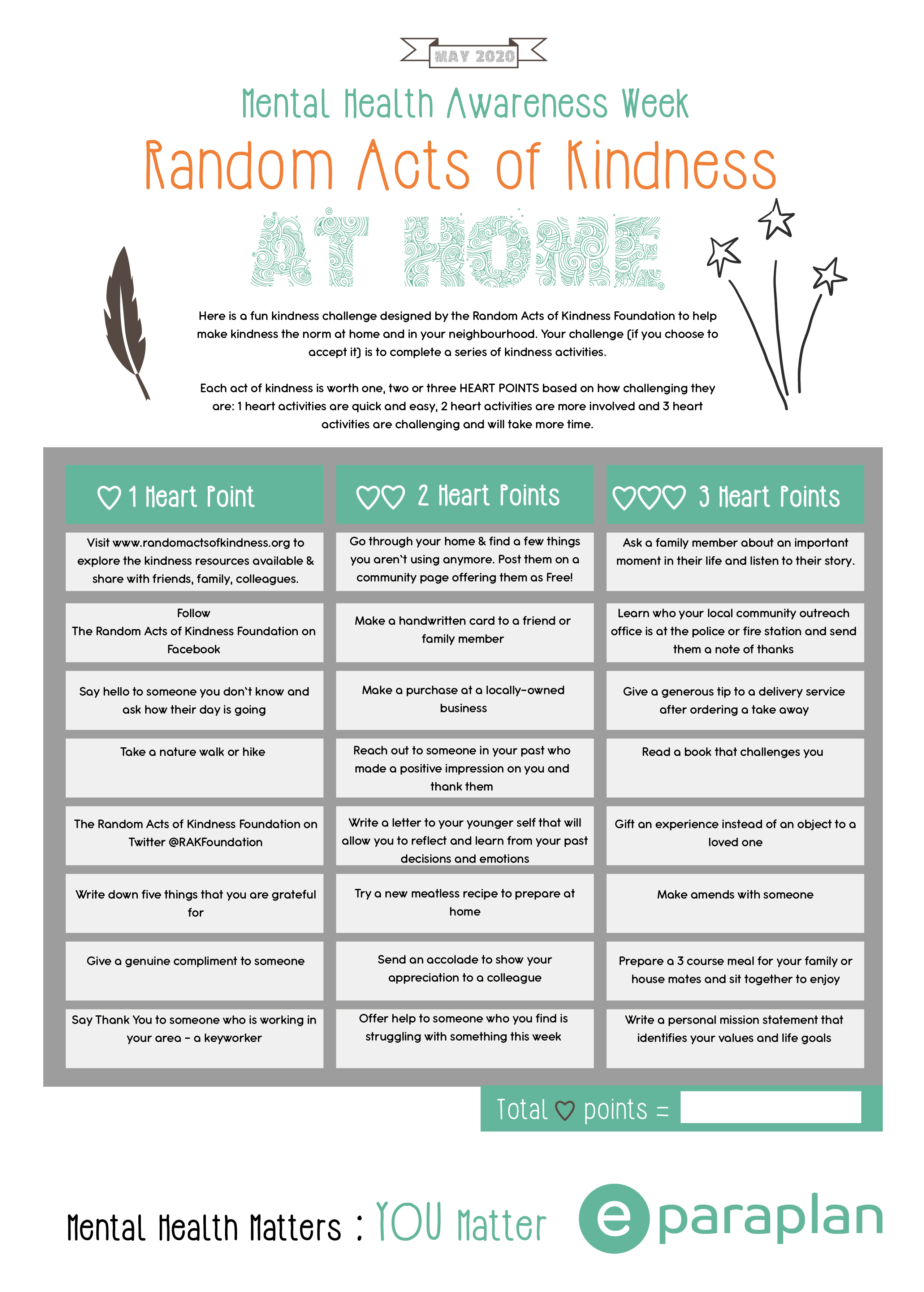 In their own words, the Mental Health Foundation chose Kindness as the theme because 'of its singular ability to unlock our shared humanity. Kindness strengthens relationships, develops community and deepens solidarity. It is a cornerstone of our individual and collective mental health. Wisdom from every culture across history recognises that kindness is something that all human beings need to experience and practise to be fully alive.'
They also see this week as a chance to explore the sort of society we would like to emerge from the pandemic!
So, how does Kindness fit into mental health?
Well, it revolves around the concept of Altruism, which is the 'principle and moral practice of concern for happiness of other human beings or animals, resulting in a quality of life both material and spiritual.' Or to put it more simply, altruism is when you have a selfless concern for the wellbeing of others. This mindset in turn can have many positive benefits, for example:
Helping others feels good
This may be an obvious and simple statement, but that doesn't take away from its relevance as there is a proven strong association between happiness and helping others! One small study that took place in 2005 found that when participants did five new acts of kindness on one day per week over a six-week period (even if each act was small) they experienced an increase in well-being, compared to control groups that didn't seek to do acts of kindness each day. And there is now evidence that this leads to a virtuous circle – happiness makes us give more, and giving makes us happier, which leads to a greater tendency to give and so on. Why not use this week to think of ways that you can help others, whether it's friends, family, colleagues or strangers, passing it forwards and helping others is always a rewarding and enjoyable experience! You can check out a list of 40 suggested acts of kindness here!
It can reduce feelings of loneliness or isolation
A short personal experience that shows this (from the Chief Exec of the Mental Health Foundation UK) is 'Last week, I waited in a socially distanced queue outside the supermarket as the rain started to fall. One of the staff noticed we were getting wet. He scurried away to find a pile of umbrellas, carefully disinfected the handles and passed them out with a smile. To my surprise, my eyes started to well up. At a time when I felt alone, I suddenly felt connected.' It shows how even a small gesture like this can have a huge impact on someone's mood! Volunteering is a great way to get involved, feel like a part of something and help others all rolled into one! Just a few examples of things you could do are: volunteer for a local community organisation, check in with a neighbour who is isolating, start or join an online club, or even something simple such as calling up an old friend or telling a family member that you love and appreciate them. All of these are examples of ways you can get connected and reduce feelings of isolation.
It keeps things in perspective
Many people don't realise the impact a different perspective can have on their outlook on life. There is some evidence that being aware of our own acts of kindness, as well as the things we are grateful for, can increase feelings of happiness, optimism and satisfaction. Being grateful can also help people cope with stress and can even have a beneficial effect on heart rate. It's also a commonly known thought that helping those less fortunate than you is a great way to put your own life into perspective! One thing you can try to gain a new perspective is to Find 3 Good Things Each Day